Our College Hymm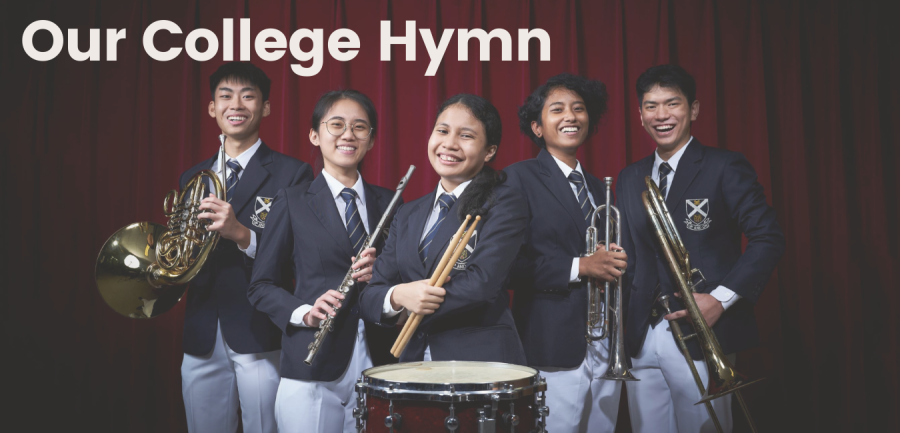 Our Father by whose servants,
Our school was built of old,
Whose Hand hath crowned Thy children,
With blessings manifold;
For Thy unfailing mercies,
Far strewn along our way,
With all who passed before us,
We praise Thy Name today.
They reap not where they laboured,
We reap what they hath sown;
Our harvest may be garnered,
By ages yet unknown.
The days of old hath dowered us
With gifts beyond all praise,
Our Father make us faithful
To serve the coming days.
Before us and beside us,
Still holden by Thy Hand,
A cloud of unseen witness,
Our elder comrades stand;
One family unbroken,
We join with one acclaim;
One heart, one voice uplifting
To glorify Thy Name.
Our School Song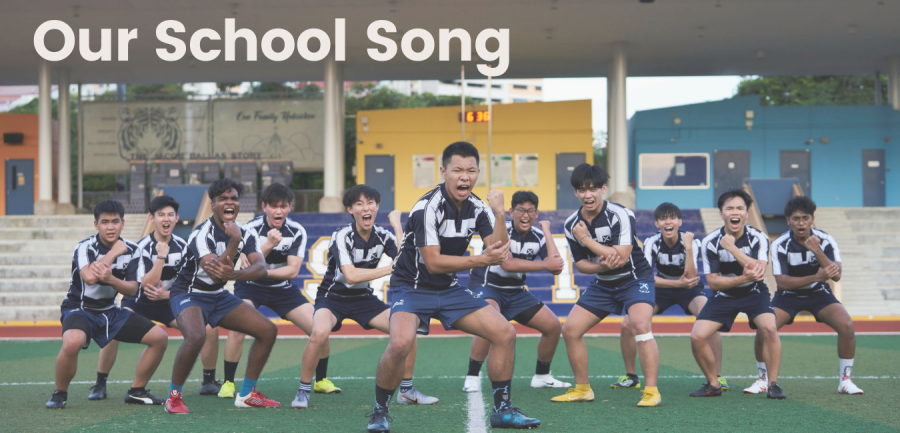 Lives are in the making here,
Hearts are in the waking here,
Mighty undertaking here,
Up and On! Up and On!
We are arming for the fight,
Pressing on with all our might,
Pluming wings for higher flight,
Up and On!
Up Saints! Truest fame
Lies in high endeavour;
Play the game!
Keep the flame
Burning brightly ever!
Fair before us lies the way,
Time for work and time for play;
Fill the measure while we may,
Up and On! Up and On!
Life and time will not delay,
Time is running fast away,
Life is now today; today;
Up and On!
Up Saints! Truest fame
Lies in high endeavour;
Play the game!
Keep the flame
Burning brightly ever!
Foes in plenty we shall meet,
Heart courageous scorn defeat;
So we press with eager feet,
Up and On! Up and On!
Ever onward to the fight,
Ever upward to the Light,
Ever true to GOD and RIGHT,
Up and On!
Up Saints! Truest fame
Lies in high endeavour;
Play the game!
Keep the flame
Burning brightly ever
Our Story
St Andrew's Junior College started as a vision of faith when the Anglican Church took up the challenge of building a Junior College. The building project was subsequently joined by the Lutheran and Presbyterian Churches. Construction began at Malan Road on 6th September 1976 after the Right Reverend Chiu Ban It, Bishop of Singapore, gave his blessings. The Foundation Stone was laid by Tan Sri Runme Shaw on 10th December the same year.
The first batch of six hundred students were admitted to the Arts and Science faculties on 3rd January 1978, and the College was officially declared open by Tan Sri Runme Shaw on 30th June 1979. The founding principal of the College was the Reverend John Tan Teng Wai. Reverend Tan placed an emphasis on sporting achievements, and under his guidance,the College rapidly established a presence in track and field.
Mrs Belinda Charles succeeded Reverend Tan on 10 March 1990. Under her leadership, the College's facilities were upgraded to standards established in the early 1990s by the Ministry of Education (MOE). The upgrading was completed in 1993, and the dedication of the new facilities by Mr Shaw Vee Meng took place on 18 February 1995.
Plans to relocate the College back to Woodsville began in the late 1990s, and the building plans for the college's new premises started in 2000. Mrs Lim Chye Tin, who succeeded Mrs Charles as principal on 15 December 2001, continued with these plans which saw the College move to Potong Pasir to become part of St Andrew's Village on 15 December 2005. The new campus was officially declared open by the then Minister for Education, Mr Tharman Shanmugaratnam, on 26th Aug 2006.
During her tenure, Mrs Lim initiated the biennial Learning Festivals and Service Learning, in line with the College mission to empower Saints and nurture them as lifelong learners committed to the community. She furthered the holistic development of Saints with the inauguration of Team SAJC and Saints on Stage in 2007, support systems for students who contribute to the College through their sporting achievements and involvement in the performing arts respectively.
Following Mrs Lim's retirement in 2007, Mrs Lee Bee Yann assumed the principalship of the College. Mrs Lee strongly believed in having a first-class teaching force where staff continually strive to improve their pedagogical practices. Mrs Lee also oversaw the construction and opening of St Andrew's Hall, and was a prime mover in the creation of the Anglican Character, Thinking and Service (ACTS) Curriculum.
Mrs Lee left the College for a new position in 2015 and was succeeded by Mr Mark Lo Khee Tian, an alumnus of St Andrew's Junior and Secondary Schools. Mr Lo paid close attention to the welfare of both staff and students, introducing initiatives such as late-start days and dress-down terms. With his emphasis on the joy of learning, as well as the joy of teaching, Mr Lo's years as principal saw improvements in the results of both the School Climate Survey (a survey on staff engagement in the workplace) as well as the Quality of School Experience (a survey on students' school experience).
In 2021, we warmly welcomed our current Principal, Mr Tham Kine Thong. The bond that ties Mr Tham to the College is a unique one. Mr Tham was a student here and later, a teacher of the Mathematics Department. He has now come full circle as he returns home to serve and lead. We are happy to welcome him back and look forward to working alongside him towards building a stronger Saints family.