Community building is defined as an ongoing process where members of a community share skills, talents, knowledge and experiences that strengthen or develop themselves and the community they belong to. A community builder actively takes actions aimed at problem solving and enriching lives, and strengthening relationships in their community.
Nurturing Saints to be community builders empowers them to become responsible adults who will continue to contribute to their communities, workplaces and the nation in the future. They will become Saints who embrace a life-long passion for serving others. As future leaders of the country, Saints must be energised to desire to make effective changes for the better and contribute to the society.
To be an effective community builder, every Saint needs to have a genuine interest and sincere concern for people and acquire a deep understanding of cultural and global literacies in order to reach out and engage both local and international friends.
In SAJC, we believe that 'No one is here by chance.' Everyone therefore has a unique role to play in the College and in touching one another's lives. To create a positive culture and a conducive environment for learning and relationship building, every member of the SAJC community is responsible for creating a caring and nurturing environment for learning and working. Everyone is expected to participate in service learning and community involvement programmes locally and/or overseas.
Service Learning
Service Learning (SL) in SAJC is an important student development experience that helps our Saints grow as passionate Community Builders. As part of SL, students are given time and space to learn as they serve their community.
The two-year SL experience in SAJC begins with JC1 Service Learning Day. In past projects, JC1 students engaged with the elderly and underprivileged families in the Kreta Ayer-Kim Seng Community as part of Project Silver Homes. Such projects offer students an opportunity to build empathy with people in their community, listen to learn from their experiences and examine the issues they encounter in their daily lives. In JC2, students are given greater autonomy to design their own service learning experiences. The class sets out to work with an intended partner organisation and proceeds to develop a plan together to carry out their SL project. At the end of the project, the class reflects on their impact on the beneficiary as well as on their own growth and development. As students approach the end of their SL journey in JC2, they embark on the Giraffes Singapore project. Drawing from previous SL experiences, they play the role of advocates, encouraging ordinary Singaporeans to go beyond their comfort zones to stick their necks out for the common good, and make positive contributions to our society. Giraffes Singapore is the JC2 students' final cohort-level activity and the culminating point of a Saint's servant leadership journey in the College. To provide students with these rich and authentic SL experiences, the College has forged strong partnerships with a range of organisations such as Central Singapore CDC, Metropolitan YMCA and Fei Yue Community Services.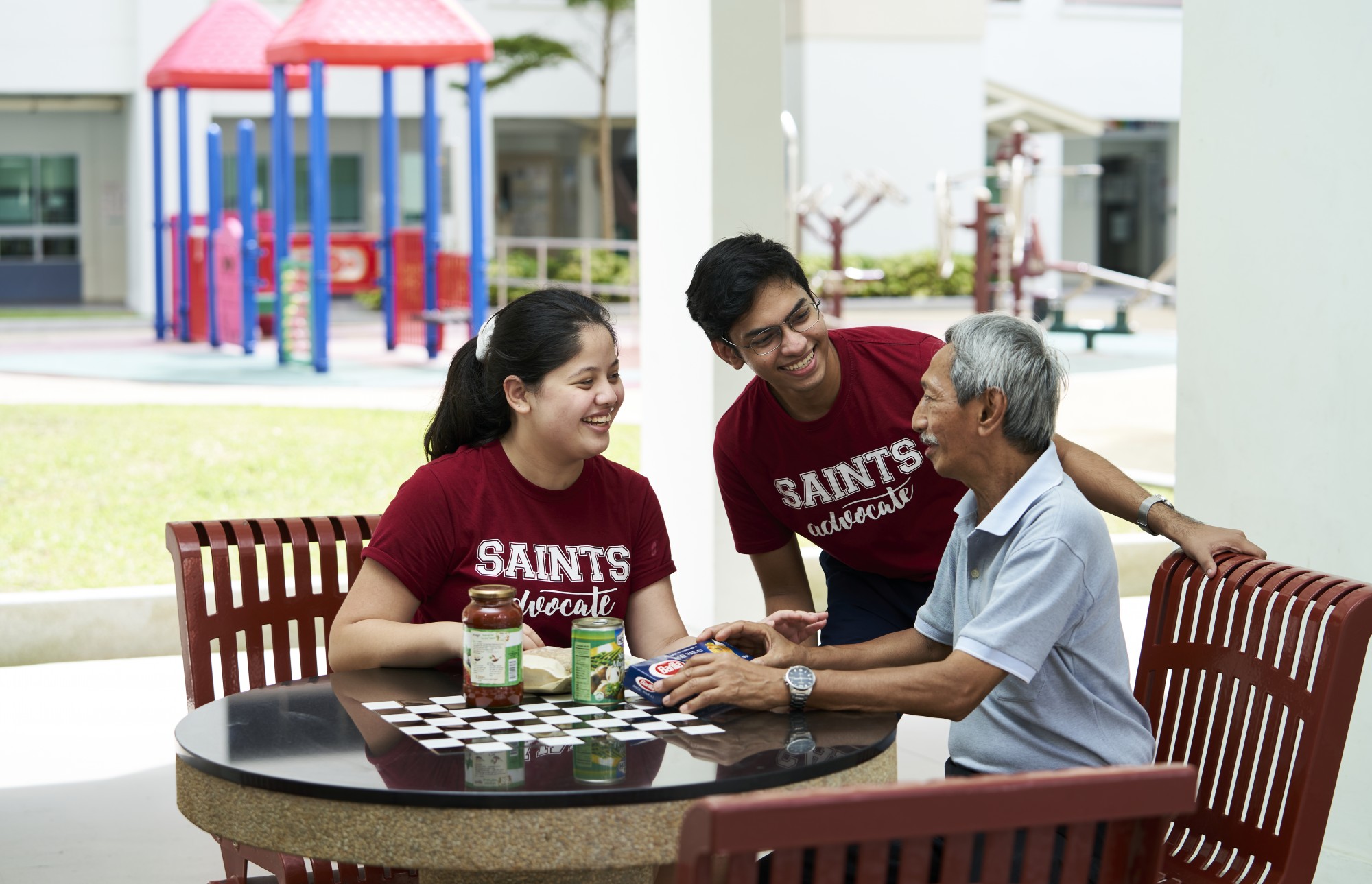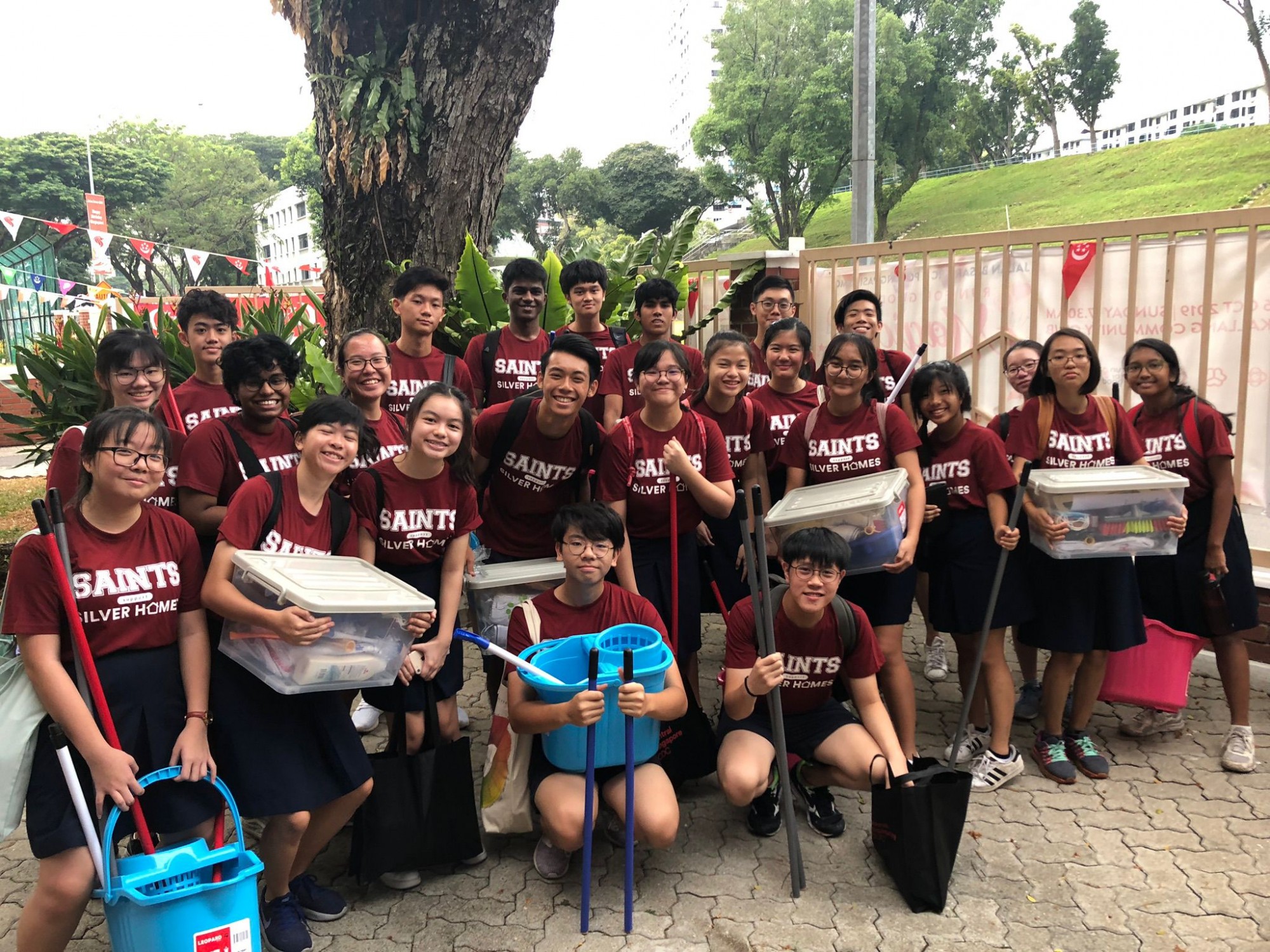 Overseas Service Learning Projects (OSLP)
The College organises OSLP trips to Vietnam and Thailand to serve communities beyond Singapore.
In June 2019, a team of Saints visited the Phong Thanh Commune, in Vietnam, for one week as part of an OSLP trip. They constructed water storage tanks for poverty-stricken families to give them access to clean water. Through the donations from the College, the Saints Advocate team was able to equip the villagers with daily household utensils to improve their daily living. The Saints Advocate also participated in sharing sessions with the children about ASEAN countries and with the local volunteers where they delivered an in-depth presentation about their work on the topic "Advancing Partnership for Sustainability". They heard from experienced social workers in Vietnam and visited historical sites like the War Remnant Museum and Cu Chi Tunnels. The students learnt not only how to appreciate what they have in Singapore but also to understand Singapore's role in ASEAN. Students also examined their national identity, their loyalty to the nation and their bonds with their family through the reflection sessions.